Visual Arts and Media students showcase artwork for WAOH 2018!
The Visual Arts and Media team were delighted with the success of their latest Summer Exhibition which was also a venue for the 2018 Worthing Artists Open Houses.
Those that attended experienced the vibrant, creative atmosphere of the college and viewed a diverse range of the most successful art all in one place. All second year Fine Art, Graphic Communication, Textiles, and Photography students, and many Film and Media students exhibited their work.
Teachers, technicians and guest artists also showed a range of Photography, Painting, Printmaking, Textiles, and Mixed Media works. Therefore, during the exhibition students were privileged to hear practising artists talking about their work, and the experience of earning money as an artist or designer.
We have received many compliments about the diverse and creative range of works displayed, and this is all down to the hard work of our students and staff. A big well done all round.
We also held the Academy of Arts Awards on Thursday 14th June which was a huge success. You can read more about the awards here.
Click here to see more of the artwork from the exhibition.
(Artists Aya Nasr top left, Louise Brenchley top middle, Kira Duffy top right, Lorenzo Puno bottom left, Erin Harrision bottom middle, Saffron Mead bottom right)
You can find out more about our Academy of Visual Arts by clicking the link here.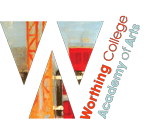 #VisualArts #Media #Summer #Exhibition #WorthingArtistsOpenHouses #Worthing #College